Congratulations!!! Gold medal! How do you feel to win in front of the home crowd?
– It is always wonderful to fight in hometown, I think you have no right to lose anyway and try your best. So I have managed to do it. I feel really happy!
– The final is very tactical against Peter's very strong fighter. Talk about the final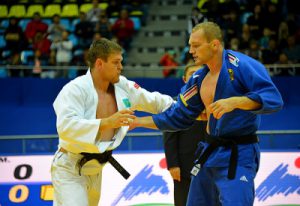 – Well, both of us really strong competitors. If I am not mistaken, we have already met with him five times. It is not always convenient to fight with him. I felt his grabbing was weak, and started to make a point on tactics, it was not so hard for me. That is all.
– Yesterday Kazakhstan did not get a medal, in the first have you met nothing yesterday and gold for you today. How important was it for that medal today?
– Of course, it seems we have leaders in our team such as Eldos ,me and etc.. As I remember yesterday there was not even 1 medal, but today we have 90. Young guy was very surprising me, I am very glad for him. Well done! Congratulations!!! In my opinion our team should work for gold, no matter who will be the winner.
-And what is the plan for you next
– I have just one plan and we are training for that purpose , that is all. Now I am going to rest. Thank you.
Thank you very much!