Otgontsegtseg –is strong judoka , but our athletes need to trust more – Podryadova
Kazakhstan judoka Alexander Podryadova said in an interview Vesti.kz his return to the national team of Kazakhstan, with the Mongolian athlete competition Galbadrah Otgontsegtseg and much more.
A participant of the Olympic Games in London and multiple winner of the Grand Prix was not included in the national team of Kazakhstan to the World Cup in 2014 and the Asian Games in Incheon . Then Podryadova almost a year did not go to the mat . But victory in the national championship in 2015 and will power have allowed the athlete to regain the first number in the team. And on June 6 Podryadova won the Open Cup of Europe in Minsk .
– I really liked how Belarusians organized last tournament – shares his impressions Podryadova. – Everything was at a high level, in principle, the tournaments under the auspices of the International Judo Federation are no failures. We arrived in Minsk the day before the competition, some training, have passed acclimatization weighed. The mood at me was very nice, because I could not relax. Rivals I have been quite strong. Moreover, I have a great desire to make a home World Championships in Astana, so I came to Minsk with a great desire to win.
– What about the competitors at this tournament?
– In the first fight, I fought with a local girl, she was number one in the national team of Belarus. We had met before, and she was uncomfortable opponent for me. We fought to the end, and I won two "yuko" and one "Vasari". The next opponent was the athlete from Israel. She is quite young, but already two years stands at senior level. Continuing falls in the top five in various tournaments. Not very tall, but very strong woman. In the course of the fight, I won by the number of "Shido" and held at the end of choke.
At the end you waiting for experienced Scarlet Gabrieli from France …
– We met her at the World Championships among youth in 2008. It fights for a long time and shows very good results. We started to fight, I just took "yuko", then again "yuko" did hold. And so it won. To be honest, all the meetings were difficult for me. Because all come here to win, no one wanted to concede. I have before each meeting to plan in advance their struggle, I thought what kind of reception do. Since I won and took the "gold" after a long break, I assess your performance in the "top five." Of course, there are errors. But for me, this victory is very important!
– You had a few injuries and you even thought about retirement . How did you overcome these challenges ?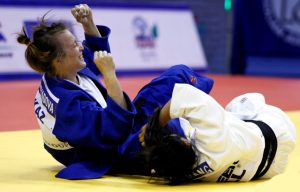 – Yes, I have had a variety of injuries , and not one. The team then relied on a young girl Aygul Baykuleva , took her everywhere , put on the Asian Games . Of course, give way to the other athlete is never easy . Aygul Baykuleva – also a good girl . I have nothing bad to say and I will not blame anyone . It was the number one team and coaches it was obvious someone put. At that time I thought about quitting . To some extent it was a shame because I do not think that I excel Aygul . But I overcame , because of my athletic career such situations already happened , not once . It's very simple : I believe in myself and do not doubt their abilities.
– In the beginning , it was reported that in Kazakhstan will act Mongolian judoka Galbadrah Otgontsegtseg that fights in your division. For you , this news came as a surprise ?
– After the break and the surgery I decided to act in the championship of Kazakhstan and won. The championship was held in my hometown of Shymkent, and I won the confidence of all its rivals. And then I find out that we brought to the Mongolian. At first I did not believe it, because I do not believe that our weight to the 48 kilograms – is weak. We have a good weight, there is a category is much weaker. Otgontsegtseg – very strong judoka, but I would like to trust our athletes more. On the other hand, I am very glad that I now have such a strong competitor, which does not allow me to relax. Maybe it's for the best.
Alexander Podryadova and coach of women's national team of Kazakhstan Zhaken Salamatov
– At the end of May last Olympics judo Karaganda Otgontsegtseg win your weight class , and you were in the weight category up to 52 kg …
– Just down the rules in the same weight from the area may only one athlete . And as I, and represent Otgontsegtseg South Kazakhstan region , its set of 48 kilograms, and me 52. In this nothing serious .
– Now the whole team is at the training camp , will front a few starts , and in August will be the World Cup in Astana. Will we see you on the capital tatami ?
– At the World Cup I can not say anything . But I think that after all put Mongolian . Next is to be Olympics . I will not do to think, time will tell.