Astana finished stage of the Judo World Grand Prix (10-12 October, Republican cycle track "Sary-Arka"). The third day of competition brought the tatami hosts three medals: gold, silver and bronze.
Men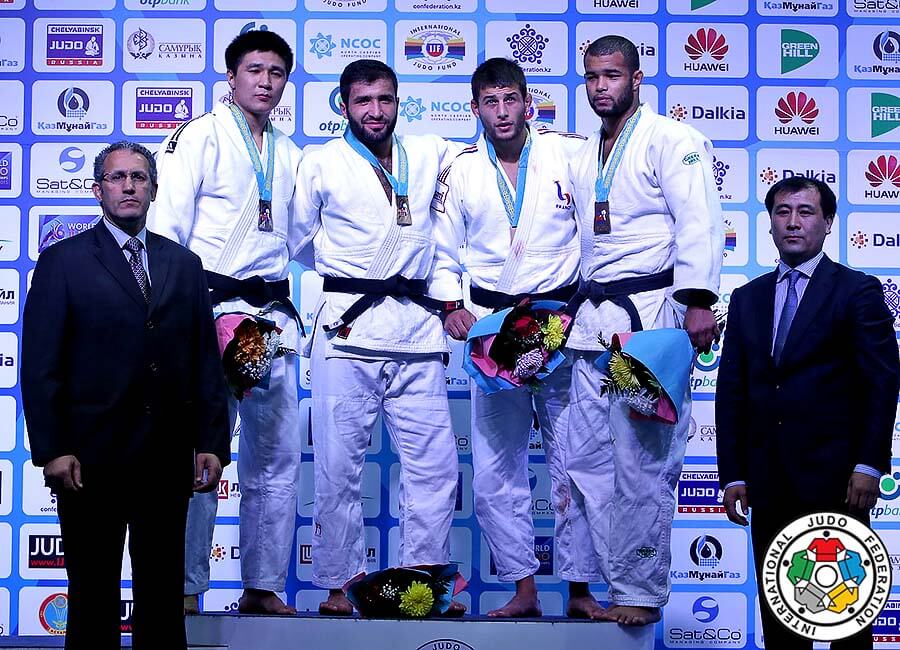 90 kg
1. Komronshoh Ustopiriyon (Tajikistan)
2. Asset Akhmetzhanov (Kazakhstan)
3. Quedjau Nhabali (Ukraine), Alexandre Iddir (France)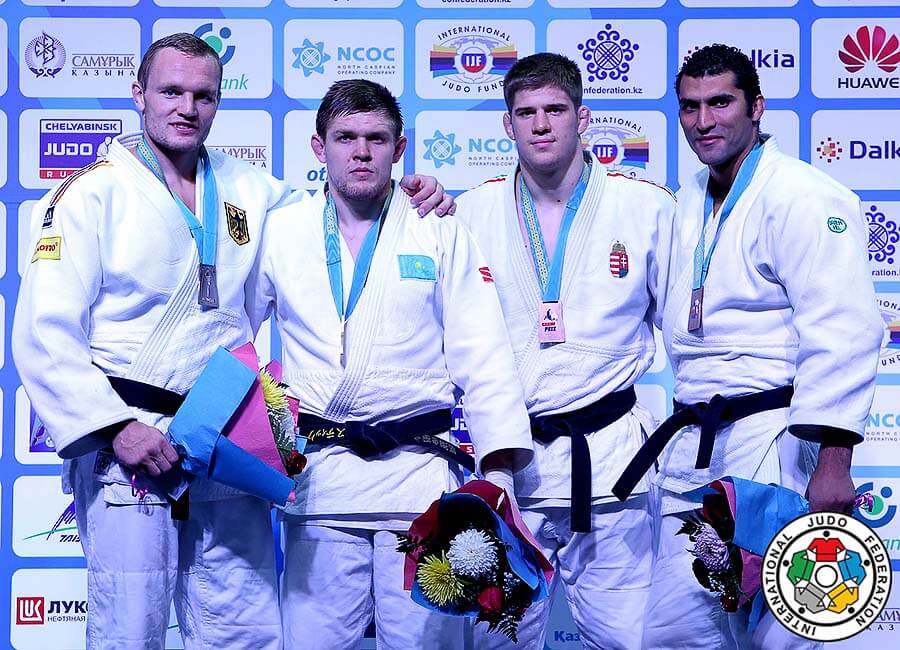 100 kg
1. Maxim Rakov (Kazakhstan)
2. Dimitri Peters (Germany)
3. Ramadan Darwish (Egypt), Miklos Cirjenics (Hungary)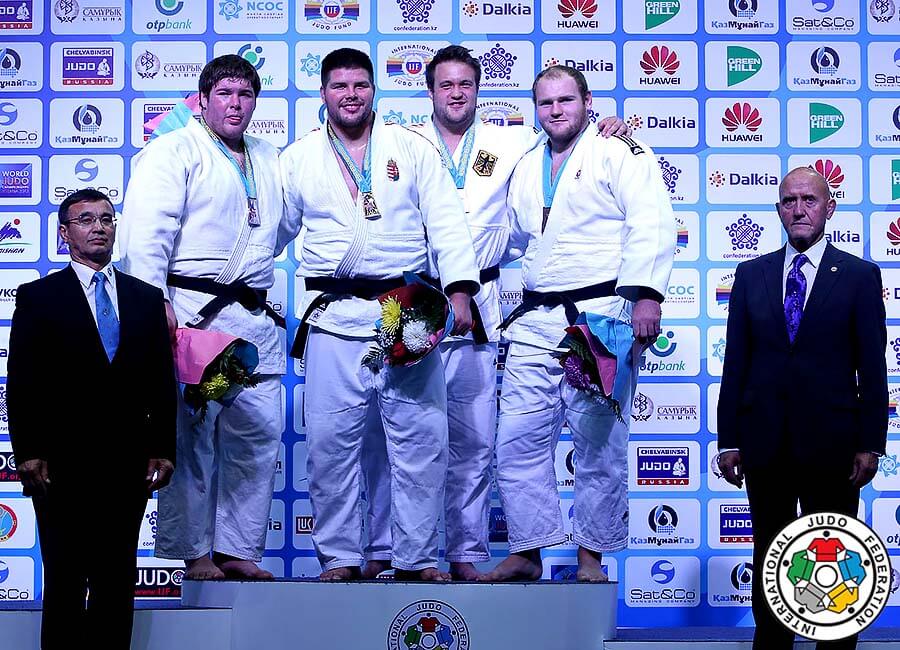 +100 kg
1. Barna Bor (Hungary)
2. Iurii Krakovetskii (Kyrgyzstan)
3. Daniel Allerstorfer (Austria), Andre Breytbart (Germany)
Girls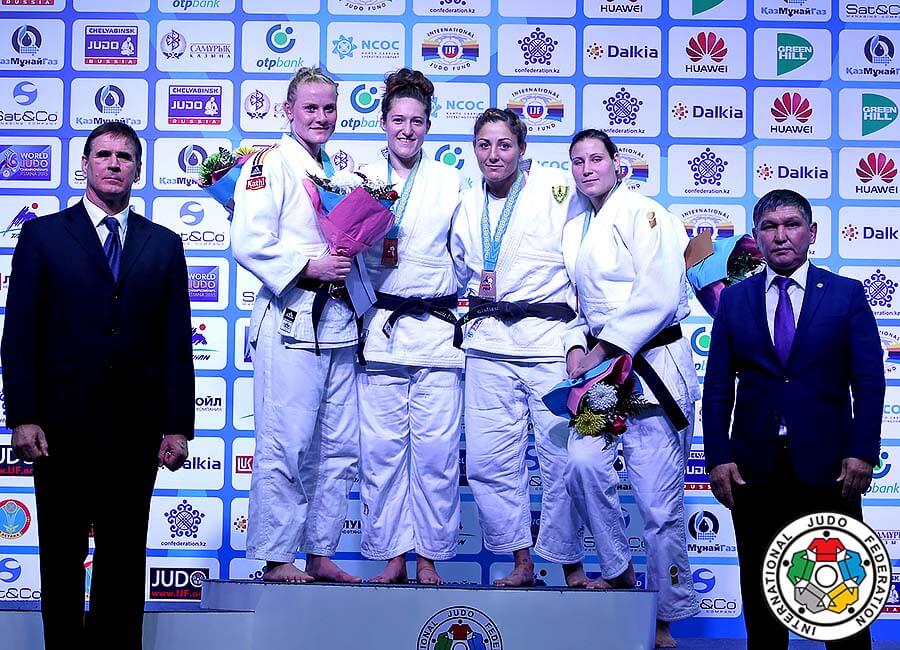 78 kg
1. Natalie Powell (UK)
2. Luise Malzahn (Germany)
3. Victoria Turks (Ukraine), Assunta Galeone (Italy)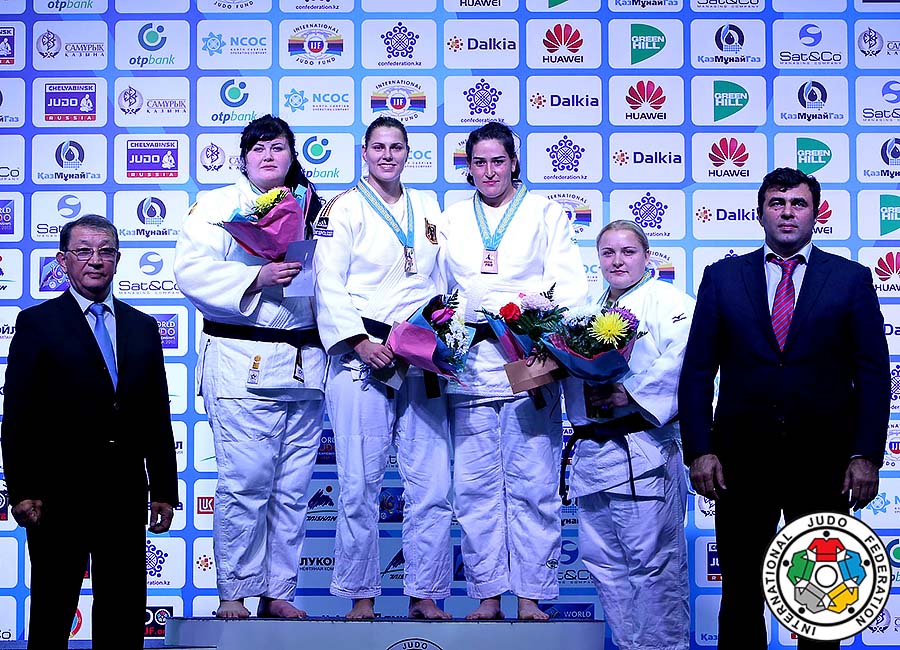 +78 kg
1. Franziska Konitz (Germany)
2. Iryna Kindzerska (Ukraine)
3. Svitlana Iaromko (Ukraine), Zarina Abdrassulova (Kazakhstan)
Thus, Kazakhstan at the Grand Prix won seven medals: gold – Yeldos Smetov, Maxim Rakov, silver -Zhansay Smagulov Asset Akhmetzhanov, bronze – Askhat Telmanov, Aziz Kalkamanuly, Zarina Abdrassulova.
Ermek Imambekov, head coach of the men's national team of Kazakhstan:
– n the second day of the Grand Prix I had hoped for two medals. I thought Ertugan Torenov (73 kg) would reach pedestal. But failed. One of the reasons was that famous and titled wrestlers came to Astana. In this weight category even Olympic champion from Georgia (2012) remained unrewarded. Torenov conceded to the Mongol sportsman, who won bronze in London. Strong opponent. At the moment, he is stronger than our athlete. We will work. Practice techniques. Aziz Kalkamanuly? I'm happy with him. He was very good, has taken a worthy third place. Champion of Kazakhstan, showed himself as a true leader in the weight class of 81 kg. I relied on him. And Aziz did not disappoint us.
As for today's fight, then I'm happy for Maxim Rakov (100 kg) and Asset Ahmetzhanov (90 kg). Reaching the final of the latter – was surprising me, isn't it a sensation? We showed this boy at the end of the Grand Prix, because he was injured by Timur Bolat – the leader of the team. Sprained ligaments, could not fight. So we did a replacement, especially because Akhmetzhanov recently moved from 81 kg to 90 kg. Did not miss even one training camp with the team, was always with us. We thought about it and decided to give the guy a chance, despite the fact that at the championship of Kazakhstan he could not even get to the top five. In the end, he proved himself a hundred percent, got the silver, I congratulate Asset and his mentor. He showed himself as a good, confidence fighters, unfortunately he lost to Tajik sportsman, who trains in Moscow. In last year's Grand prix stages in Almaty and Tashkent Komronshoh Ustopirion won the bronze medal at the Asian Games in Incheon was placed fifth. The opponent was more experienced than Akhmetzhanov. Asset's minuses? He needs to work out physical training, "functional",in short, he has to work and work. The main thing is – that we recognized in him a reserve that will be good competition in the 90 kg. It makes me really happy. And what shots he made, how he worked with his feet! His today success – is not accident. We need to work with this boy. He is brave, masters his technique, not afraid of anything, dictates the fight, which is incredibly important. By Yerzhan Shynkeev I can say the following: all his recent failures due to the fact that in the 100 kg weight category, we are simply no competition. Just two judoka. No one else to fight him with. Plus – Yerzhan needs to work on "physics". These are the problems.
The guys left without medals, someone I liked, and who are, on the contrary, disappointed me. The names of the last sportsmen I don't want to say, they have already known everything. They will be corrected.
Taking this opportunity, I want to thank all the coaches of the national team, with whom I have trained the team. One man is no man. I also appreciate personal trainers of Judo Federation, Confederation of combat and power sports, which did a great job on the organization of such a prestigious tournament in Astana.
2 gold, 2 silver, 2 bronze – a total of six medals. Of course, I am happy. Taking an account of the participating countries number, this is a good result. Our coaching staff got what it was planning. The main thing is that we got gold.
Our next starts – a Grand Prix in Tashkent (16-18 October), where we will send the fourth-fifths numbers of the team (takes Marat Danaybaev's team – Approx.'s), And the "Grand Slam" in Abu Dhabi (31 October – 2 November). There will go a mixed composition. Akhmetzhanov – is in the list.