World Championship in Astana will be unique – judoka Maxim Rakov
World champion in 2009 spoke about his preparation for the World Championship at home .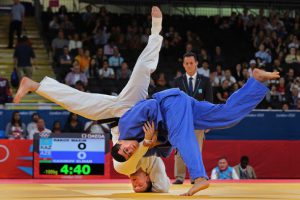 Kazakhstan judo world champion and Asia in 2009, silver medalist of the Asian Games 2014 Maxim Rakov, believes that the August World Championships in Astana will be unique, reports Vesti.kz.
– Now I have an active preparation for the World Cup – said Maxim Rakov. – The first step was gathering in the mountains, to Shymbulak, and then had two starts. We have a lot of attention they are not paid, however. In the first competition I took the medal, the second passed without awards. But the second time I have enjoyed my fight because after the mountains to fight hard on the carpet, and we did not have any problems.
– Does it give any results of training in the mountains?
– Yes, of course , it gives . It was very high, more than two kilometers , so the effect of this training will last for several months. Everything is going well now, will soon begin gathering in Minsk , preparing for the championship home .
– At the World Cup who can be called the main rivals ?
– Contestants will be many, the main difficult to call. With all the fighting , someone won , someone inferior . But I will be the main rival for myself. Well it is necessary to tune and adequately address the family stands . There will be a lot of fans , so you need only go forward and win.
– How is it to fight with yourself?
– With each new start trying to add, to gain the optimal shape. Very much to overcome various troubles and heal injuries. And closer to the start getting better, so that the world championship will be fully prepared. The main thing is that the next World Championship in Astana will be unique. Not every athlete falls such an honor and an opportunity – to speak it at home at this championship. In Kazakhstan, the world championship for the first time, it happens once in a lifetime – to fight at home in front of our fans at the World Cup. I think this is a huge plus and a great sports luck, that will happen in my life. God willing, everything will be fine.
– What kind of a psychological burden because of this feeling?
– No, nothing like that at all. Itself does not load and treat this exactly, without nervous trembling. When else will we have such in Kazakhstan? So many times had to perform abroad, and now at home. It is clear that you are assigned to certain expectations, but we must not be loaded because of this, and to make 100-150 percent possible. If you're going to think about it, it will burn out. It is necessary to go out, do your favorite thing, enjoy it and get a medal. Such a plan. Each in its place it is necessary to do their work: the athletes – to fight, the audience – experience. Then all will be right.
– A few years ago you had not the best period of his sports career . And since last year, we went to a good start.
– Last year we had the best form came in May, I took the "gold" in Baku , then somewhere in the autumn was a good performance . Then have learned , spent the adjustment . This year there were three starts, which may be called preparatory . Coaches probably protect that in the World Cup , I was on top form . Experience lacking in principle .
– You and Yerzhan Shankeev both from Karaganda , which should give the expected result. Once you can rely on someone in Karaganda region ?
– There are guys : Zhansay Smagulov – a talented young athlete , Islam Bozbayev after a long break in the form of a good part of – won the Olympics , and took "silver" Grand Prix . Young people growing up , my brother , Michael Rakov became a champion of Kazakhstan in my weight . So that the change is coming, guys grow .
– After the Olympics, what are your plans ? Will you continue your career?
– Do not know yet , do not even show all the results of performances in Rio , and what I want to continue . As I set to work on
– In Kazakhstan continues the trend of attracting foreign athletes. For example, weight lifting is now in the top Chinese athletes , and specifically in judo Galbadrah Otgontsegtseg Mongolia . How do you feel about this phenomenon?
– We have it in judo for the first time. Perhaps, for the women's team is justified because the men's invite someone does not make sense , all strong . And women need results and will help Otgontsegtseg . Especially on the same fees it will look different and learn something . The main thing that it does not get carried away, because of our need to grow . It is easy to type because the foreign players and then fail to train their own. We must do so that our athletes on this background only get benefits.
– This year you have held training camp in Japan. Perceptible difference between our experts and the Japanese?
– We've been there before. Of course, their training is different from ours, the Japanese give a lot of stress. But this is Japan, the birthplace of martial arts, there is a lot to learn. However, I grew up here, soak up the local school. Yes, there is something new to take, but it lays the basis for a house. Kazakhstan has its own fighting style, which is different from the Japanese, but do not say that to me a lot there and enjoyed it. Of course, everything is different. There's a mad competition that if we had such, all would have looked different. There is another system, judo in Japan is taught as a subject in secondary schools, so they have to learn from what. But again, we are completely different people , we have a different outlook on life , we have our own judo, the Japanese will never be able to fight because , like us. Of course, they have a very strong wrestlers , but we have our own way. You can take a little of each , and to invest in our people.
– It is useful to whether to take, for example, a promising young fighter and send a few years in Japan, so he learned there, from the source?
– No I do not think so. So it is possible to break down the whole fight itself, because different styles if mixed, he forgets all his fine, and there will not learn. The difference is colossal. We all struggle is built on character, on the feeling. Many factors affect the preparation, but the most important thing is that Kazakhstan has its way, and it is yielding results, and this is very important.